FREE SEEDS! (Click here for details)
S-3649
In Maintenance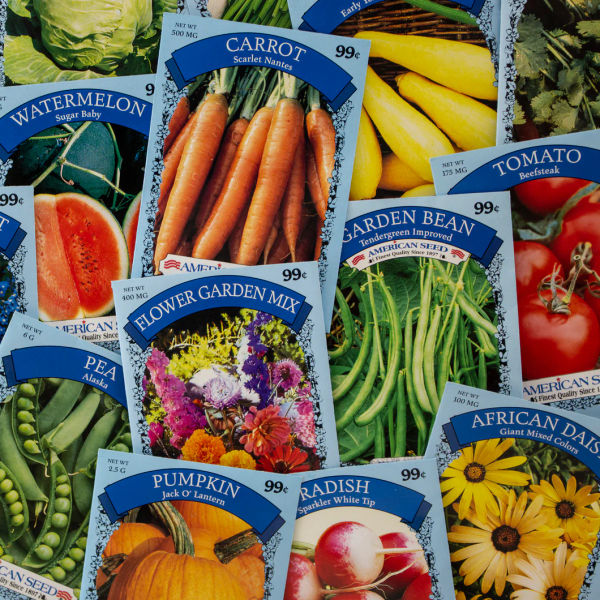 These are all of the seeds that are available for free at the Tool Library! They are available on a first come first serve basis. Please only take what you need.



Below is a partial list of the seeds available at the beginning of the season. Check the link above for the current inventory.


Alaska Variegated Nasturtium
America Spinach
American Purple Top Rutabaga
Amish Pie Squash
Anaheim Pepper
Anise Hyssop
Arikara Yellow Bean
Armenian Pale Green Cucumber
Arugula
Astro Arugula
Australian Yellowleaf Lettuce
Autumn Beauty Blend Sunflower
Autumn Beauty Sunflower
Autumn Beauty Sunflower Mix
Azur Star Kohlrabi
Bee's Friend
Beit Alpha Cucumber
Bells of Ireland
Belstar Broccoli
Bill Jump's Soup Pea
Black Beauty Eggplant
Black Beauty Eggplant
Black Beauty Eggplant
Black Cherry Tomato
Black Valentine Bean
Blue Jade Corn
Bountiful Bean
Brandywine Tomato
Burgundy Amaranth
Burgundy Okra
Butterflay Spinach
California Wonder Pepper
California Wonder Sweet Pepper
Canada Wild Rye
Caribe Cilantro
Catnip
Champion Radish
Cherry Belle Radish
China Rose Radish
Chinese Celery
Chinese Celery Cabbage
Chioggia Beet
Chioggia Beet
Cilantro
Clemson Spineless Okra
Cocozelle Zucchini
Common Chives
Common Sage
Copenhagen Market Cabbage
Copenhagen Market Cabbage
Cucurbita Pepo Spaghetti Squash
Danvers Carrots
De Cicco Broccoli
Detroit Dark Red Beet
Detroit Dark Red Beet
Detroit Dark Red Beet
Detroit Dark Red Beet
Di Cicco Broccoli
Diamond Eggplant
Early Jalapeno Hot Pepper
Early Snowball Cauliflower
Easter Egg Mix Radish
Eden's Gem Melon
Edible Red Leaf Amaranth
Edmonson Cucumber
Ella Kropf Lettuce
Emerald Okra
Emiko Cabbage
Eruca Sativa Arugula
Esmee Arugula
Evening Colors Sunflower
Fiesta Blend Nasturtium
Five Color Silverbeet Swiss Chard
Flat Leaf Parsley
Fordhood Swiss Chard
Fordhook Acorn Squash
Fordhook Giant Swiss Chard
Forellenschlus Lettuce
Four O'Clock Marvel of Peru
French Breakfast Radish
French Breakfast Radish
French Breaskfast Radish
Genovese Basil
Georgia Collards
Georgia Collards
German Chamomile
Giant Italian Parsley
Giant Leek
Giant Winter Spinach
Golden Acre Cabbage
Golden Zucchini
Great Lakes Lettuce
Greek Oregano
Green Salad Bowl Lettuce
Green Star Lettuce
Green Towers Romaine Lettuce
Green Wave Mustard Greens
Green Zebra Tomato
Greensleeves Dill
Greenwave Mustard Greens
Grey Zucchini
Guardsmark Chioggia Beet
Habanero Orange Pepper
Hairy Vetch Cover Crop
Healthy Pepper
Hella Sonnenblume Sunflower
High Mowing DMR Blend Lettuce
Hon Tsai Tai Flowering Broccoli
Hopi Red Dye Amaranth
Hotshot Spicy Blend Mustard
Imperator 58 Carrot
Improved Dwarf Siberian Kale
Isis Candy Cherry Tomato
Italian Flat Leaf Parsley
Japanese Climbing Cucumber
Jericho Lettuce
Kellogg's Breakfast Tomato
King of the North Sweet Pepper
Kuroda Carrot
Lacinato Dinosaur Kale
Lacinato Kale
Lancer Parsnip
Lemon Balm
Lemon Balm
Lemon Basil
Listada de Gandia Eggplant
Listada de Gandia Eggplant
Little Finger Eggplant
Little Gem Lettuce
Lolla Rosa Lettuce
Lolla Rosa Lettuce
Lolla Rossa Lettuce
Long Island Improved Brussels Sprouts
Long Purple Eggplant
Lovelock Lettuce
Mammoth Sunflower
Martino's Roma
Marvel of Four Seasons Butterhead Lettuce
Marvel of Peru Four O'Clock
Maule's Red Hot Pepper
McMahon's Texas Bird Pepper
Medium Red Sunflower
Miami Carrot
Michihili Cabbage
Midnight Pear Tomato
Midori Giant Soybean
Mizuna Asian Greens
Monstorpolgi Celeriac
Moon & Stars Watermelon
Moskvich Pole Tomato
Moskvich Tomato
Napoli Carrot
Nautic Brussels Sprouts
Oka (Bizard Island Strain) Melon
Orange Sun Pepper
Oregon Sugar Pod II Snow Bean
Outredgeous Romaine Lettuce
Pencil Pod Golden Wax Bean
Perfection Fennel
Picnic Watermelon
Pollinator Garden Flower Mix
Prairie Lupine
Premium Late Flat Dutch Cabbage
Provider Bean Bush
Provider Bush Beans
Pruden's Purple Tomato
Purple Coneflower
Purple Prarie Clover
Purple Tomatillo
Purple Top Turnip
Purple Top White Globe Turnip
Purple Top White Globe Turnip
Purple Vienna Kohlrabi
Rainbow Mix Carrot
Rainbow Swiss Chard
Rattlesnake Pole Bean
Red Acre Cabbage
Red and Yellow Wonder Blend Strawberry
Red Creole Onion
Red Giant Mustard
Red Giant Mustard
Red Russian Kale
Red Russian Kale
Red Scarlet Zinnia
Regiment Spinach
Renegade Spinach
Resina Calendula
Ring-O-Fire Cayenne Hot Pepper
Rocky Arugula Wild Rocket
Rose de Berne Tomato
Rosie Basil
Roy's Calais Corn
Rutgers Obsession DMR Basil
Salad Bowl Lettuce
San Marzano Paste Tomato
San Marzano Tomato
Santo Cilantro
Scarlet Kale
Scarlet Kale
Scarlet Nantes Carrot
Sensation Blend Cosmos
Seychelles Pole Bean
Shiraz Beet
Shishito Pepper
Soil Builder Peas and Oats Cover Crop
Sora Radish
Sorrel
Spring Broccoli Raab
Straightneck Summer Squash
Sugar Baby Watermelon
Summer Savory
Sunbright Pepper
Supernova Grape Tomato
Sweet Granite Melon
Sweet Joe Pye Weed
Sweet Marjoram
Sweetie Cherry Tomato
Tall Utah Celery
Tat Soi Asian Green
Tavera Bush Filet Bean
Thyme
Thyme
Toma Verde Tomatillo
Triple Curled Parsley
Utah Celery
Vates Kale
Verbena
Victoria Rhubarb
Viroflay Spinach
Watermelon Radish
White Cherry Tomato
White Stemmed Pac Choy
Yaya Carrot
Yellow of Parma Onion
Yellow Sweet Spanish Onion
Yellowstone Carrot
Zucchini Mix
These are small seed packets (not full-sized seed packets) to help people get their gardens started. Please only take what you need. Supplies are limited and demand is high.

You may reserve seeds online in-advance, but "shopping" in-person for seeds is preferred to not overburden our volunteers.