Sewing Machine Presser Foot Kit
B-2563
Overdue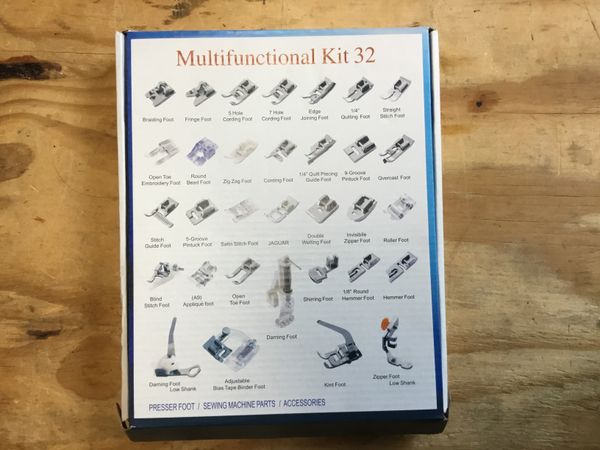 Presser foot kit for snap-on presser foot machines.  Will not work with older model machines where you need to screw in the presser foot to attach.  Compatible with our B-1216 and B-1042 sewing machines.
Contains:
Braiding foot
Fringe foot
5 Hole Cording foot
7 Hole Cording foot
Edge Joining foot
1/4" Quilting foot
Straight Stitch foot
Open Toe Embroidery foot
Round Bead foot
Zig Zag foot
Cording foot
1/4" Quilt Piecing Guide foot
9-Groove Pintuck foot
Overcast foot
Stitch Guide foot
5-Groove Pintuck foot
Satin Stitch foot
JAGUAR
Double Welting foot
Invisible Zipper foot
Roller foot
Blind Stitch foot
A9 Appliqué foot
Open Toe foot
Darning foot
Shirring foot
1/8" Round Hemmer foot
Hemmer foot
Darning foot (low shank)
Adjustable bias tape binder foot
Knit foot
Zipper foot (low shank)
Login or Signup to place this item on hold.